---
---
What is Virtual Dokkan Ultimate Clash?
Virtual Dokkan Ultimate Clash is a new battle mode (

March 15, 2018 /

October 16, 2018) open exclusively to UR or higher characters! Up to 100 fighters can join the fray!
Continues and Support Items are NOT allowed in this mode. On the other hand, no STA will be consumed!
The event will reset every month.
How to join
This event requires Player Rank to be 150 or above!
Tap the "Special" button on the main page to access the entry page for Ultimate Clash!
Tap "Participate" during the event period to go to the main page of Ultimate Clash!
Battles
After defeating each enemy that appears around the "?", the Boss will show up on the "?"!
Clear the LEVEL and get rewards by defeating the boss.
You won't be able to select a Friend's character as sub-leader.
Instead, you will have to choose one of your own to be the sub-leader and activate your character's Leader Skill! You can't use Support Items in Ultimate Clash, and therefore characters' skills and the combinations between them are important!
Form a team with 7 of your characters including the sub-leader and take on the powerful enemies!
Enemies from Ultimate Clash are formidable!
Please note that when challenging a stage, you will not be able to use characters who have joined the battle before!
Arrange characters strategically according to the stage you are going to challenge!
Even when you lose a battle, you can continue to challenge the stage if you still have other characters left! Opponent's health bar will not replenish between the fights!
Clear stages to collect Treasure Item
You can receive the Treasure Item "Battlefield Memory" upon clearing each stage for the first time during the event period or from missions!

In addition, you can exchange "Battlefield Memory" for [A Reliable Captain] Captain Ginyu at Baba's Shop!
[A Reliable Captain] Captain Ginyu can be Dokkan Awakened with "Ultimate Clash Medal" that can also be obtained from Baba's Shop!
Captain Ginyu can be Dokkan Awakened again to an LR, reaching the maximum level of 150!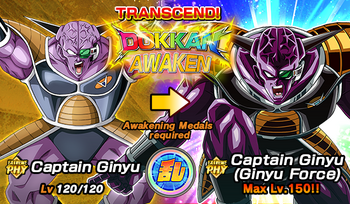 Take on the Ultimate Clash and aim for becoming an LR!
You can also recruit [Ginyu Force Reborn] Ginyu (Goku) (Ginyu Force) at Baba's Shop!
List of Virtual Dokkan Ultimate Clashes
Help with choosing good Leaders
Click any icon to be taken to all the best leaders in the game, really good for making A Tier and B Tier teams, great for finding Sub-leaders.
---
---